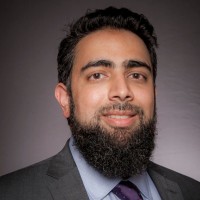 He has over 10 years of experience in various roles including consulting and project management. He holds a bachelor's degree in Computer Science with a focus in Technical Writing, is a certified leadership speaker/trainer through the John Maxwell Team, and a Project Management Professional (PMP). He is a founding member Qalam Institute and of various initiatives under its umbrella such as Debt Free Muslims. He has previously held key leadership positions with Islamic organizations such as MuslimMatters.org and Bayyinah Institute. Omar regularly delivers khutbah in the Dallas area and is a primary instructor of our Khateeb Workshop program.
Omar has delivered presentations and keynotes on Social Media, Leadership, Personal Finance, and other related topics at Islamic centers and conventions across North America.
To invite Omar to speak at your event, please use this contact page.