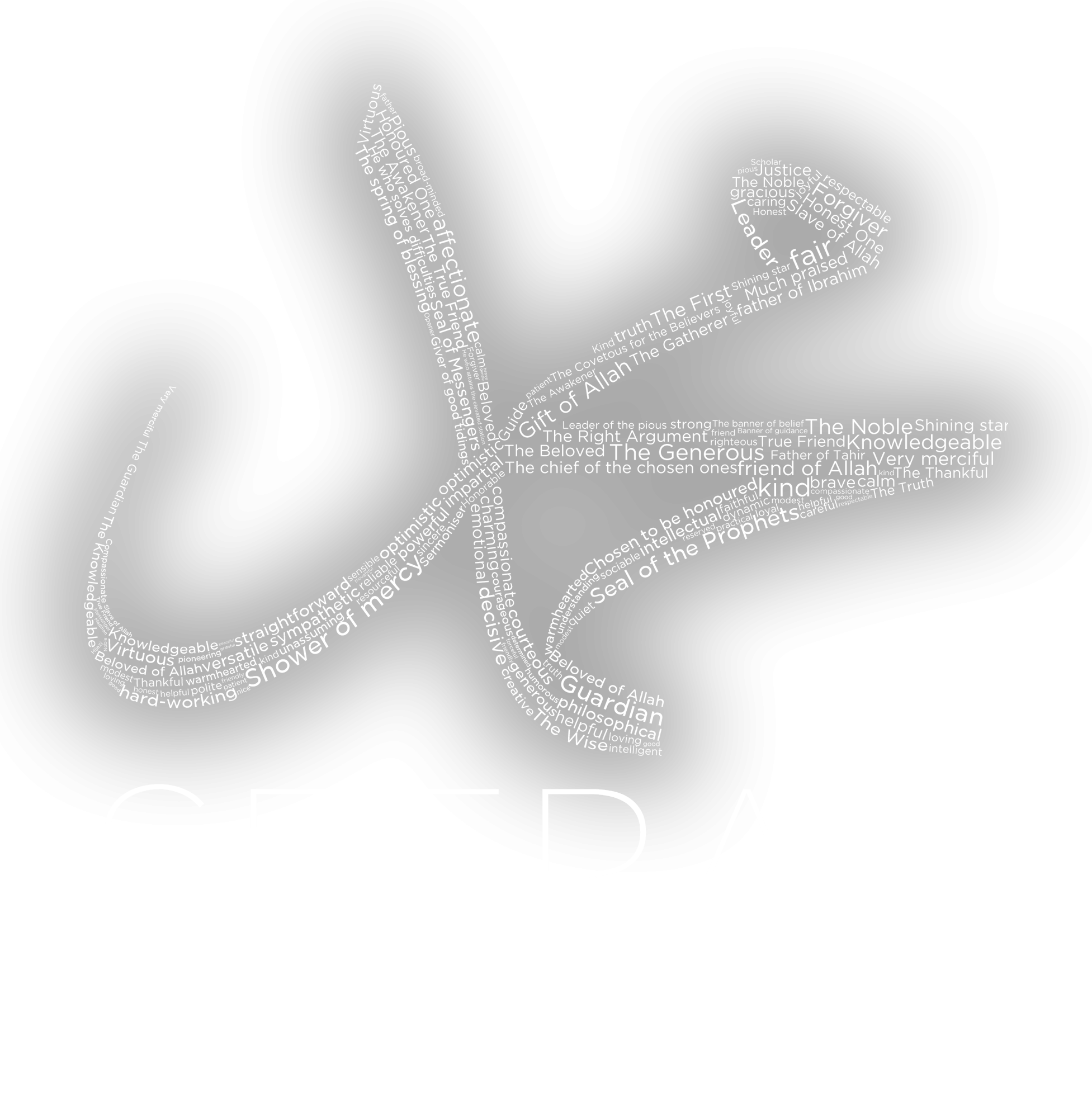 Interested in Seerah Intensive 2017?
#QalamSI this year was an unbelievable experience, the instructors and attendees all felt the life changing impact of this program. So if you're interested in spending 2 weeks studying the Life of the Prophet morning and evening, please fill out the form below. We will be sharing information about next years program as well as some insights and lessons from the Seerah.
Most of us grew up with the same basic understanding of the life of the Prophet Muhammad (saw) – i.e. his seerah. Since we were young children we heard an account of the Angel Jibreel visiting him in the cave of Hira, and being told to read 3 times. Surah Iqra was then reveled and prophethood commenced.After this was a period of difficulty as the message slowly spread. We learned quickly the stories of Khadijah, Abu Bakr, and other companions as they helped in this time.There was a migration to Abyssinia, and then a migration to Medinah.
Then there were 3 major battles that took place – the hallmark of Sunday school exams we took every single year. Badr, Uhud, and Khandaq. We memorized the names of the battles, the circumstances, and the numbers.
Once we covered this, we went to the conquest of Makkah, and thus concluded our study of the Prophet biography.
We grew accustomed to hearing the same account over and over again. And yet, we would also grow up hearing about the remarkable character of the Prophet (saw), and how it transformed the people around him. We learned that good manners were important, yet we never really learned about this in detail.
How is it that his life was so amazing, so transformative, able to change the course of history – and all we really learned about his life was how revelation started and the names of 3 major battles?
Intellectually we understand that the lessons from his life are timeless, but we struggle with implementing them. In fact, thousands upon thousands of volumes have been written delving into the most nuanced details of his life. He is the most documented man in history and an inspiration for billions of people.
But why do I struggle with learning practical and applicable lessons from his life? Things I can act upon day to day in my own modern context? Why isn't there a resource for this?
It was to specifically answer this question that the Qalam Institute Seerah Podcast was started by Shaykh AbdulNasir Jangda. This effort grew as a weekly class into an online livestream and regularly updated podcast – all for free.
Stories from the Prophetic biography are brought to life in a way that we wish we had grown up hearing. It's one thing to hear a textual narration of how Salman al-Farsi was freed, but it's quite another to hear it told in vivid detail with practical lessons about leadership, unity, and community building that we can all readily apply into our daily lives.
I find it was that more human side of Muhammad that kept my faith strong. its like you look at him and all the good he does and say 'that seems impossible for me to do because he is too perfect' and then you see him going around talking proudly about a new born son that Khadija gives birth and then you go 'wow, he's like me…yes, it is possible to do what he does or at least try' It gave me enough hope." Helmi Z.
Every month over 30,000 people download the latest episodes, just to get a glimpse into the life of the Prophet (saw). Over 100 hours have been recorded – and this is barely at the halfway point of telling his story.
Sharing the Prophetic biography has become even more pressing in our times. Knowing the history of his life is one of the core components of teaching the true message of Islam within and outside the Muslim community. It provides a cure for the spiritual crisis many of us feel. It is the ultimate way to reconnect with our faith, and increase in our love of Allah's Last Messenger (saw).
"Alhamdulillah for this work of yours. As a revert who has had trials much like you related, I also say "Problem solved" after khutbahs that gave me glimpses into the "real life" of the Prophet, sallallahu alayhi wasallam, who I have much love and respect for now. I look forward to the help of Allah, azza wa jal, through the rest of this series." – Deborah E.
We never tire of hearing the stories. Think about something as simple as the story of al-Isra' wal-Mi'raj – when the Prophet (saw) took the night journey to Jerusalem and then ascended up through the heavens. Think about the feeling you get in your heart when hearing the response of Abu Bakr to the Quraysh the next morning – "if he said it, it's the truth." We already know how the story goes, and yet we still feel a surge of iman deep in our hearts, we can't help but smile at the power of this response. That feeling is the feeling of a story being brought to life. And these aren't just any stories – but stories about the greatest man to ever walk the face of this earth, stories with enrich our faith and liven our souls.
A New Initiative
As we continue with the podcast initiative, we wanted to take the next step as well. It is a tradition from a number of our scholars to revise the seerah every year. Part of the beauty of the Prophetic biography is that the more you study it, the more you learn, the more your heart opens up.
We are pleased to announce the launch of The Seerah Intensive.
This intensive will focus on 2 key subject areas:
1. The Prophetic Biography.
You will go through over 100 hours of an in-depth, well researched, and chronological account of the life of the Prophet (saw) and extract lessons, drawing on dozens of contemporary and classical resources. The method of instruction for this will be primarily geared around giving students a practical, relevant, and easy-to understand study of his biography giving readily applicable examples that everyone can relate to.
2. The Shama'il.
Students will engage in a detailed 15+ hour study of Imam Tirmidhi's classical work – a collection of the most beautiful and vivid descriptions of the Prophet (saw).
For 2 weeks, students will spend their day in the Masjid – praying, studying, and socializing with their teachers and fellow students, creating inseparable bonds of sisterhood and brotherhood.
Full Package Single – $1799
Full Package Family (up to 4) – $4299
Local Single – $799
Local Family – $1999
Please note the following:
Our preferred payment method is online, but tuition may be paid via check/money order. Please email us at si@qalaminstitute.org for instructions with the subject line: "Seerah Intensive – Pay via Check/Money Order"
Students registering for Full Package – Single will be assigned a roommate, making it two students per room. Single occupancy is available at an additional cost upon registration.
Family registrations are intended for immediate family members only.
Full Package – Family registrants will be provided one room and is limited to four family members.
December 23, 2016

–

January 7, 2017
Intensive orientation will be held on

December 23rd

at the Carrollton Masjid after Isha (

8 PM

).
Last day of class will be January 7th. We will be concluding the course with a graduation ceremony that will go till approximately 3 PM.
Hotel checkout will be January 8th at 12:00pm.
Full package students will be staying at a hotel close to the venue for the duration of the course. We will post more about the hotel and its amenities soon!
Transportation is for full package students only, it includes airport pickups, daily shuttling between the masjid and hotel.
Meals
Breakfast will be available to full package students at the hotel.
Lunch and dinner will be catered for full package students and provided at the class location inshaAllah.
If you are a local student and would like lunch and/or dinner keep an eye out for a sign up & payment form!
The intensive and Shama'il lectures will both be held at the Islamic Association of Carrollton in Dallas, TX. The masjid is located at 1901 Kelly Blvd. Carrollton, TX 75006.
We understand there are many circumstances under which you may need to withdraw from the program and request a refund, below is our refund policy for Seerah Intensive 2016. This policy is not applicable to other programs.
You are eligible for a full refund if you request it by November 12th.
Between November 12-November 31 you are eligible for 50%.
After November 31st there is no refund available.
Frequently Asked Questions