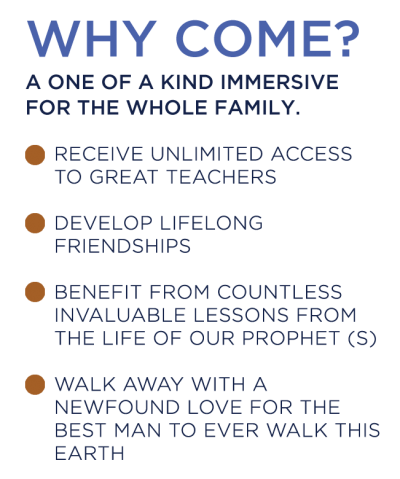 Check out our Hashtag #QalamSI
Interested in Seerah Intensive 2017?
#QalamSI this year was an unbelievable experience, the instructors and attendees all felt the life changing impact of this program. So if you're interested in spending 2 weeks studying the Life of the Prophet morning and evening, please fill out the form below. We will be sharing information about next years program as well as some insights and lessons from the Seerah.
"You will never know who you are until you know who He (pbuh) was"
December 22, 2017

 –

January 1, 2018
8 am to 2 pm
6 pm to 9 pm
Package 1: Tuition (no accommodation)- $799

Package 2: Tuition + Accommodation – $1,799

Family pricing is available upon request. Please email us at intensives@qalaminstitute.org
For those who choose package 2 the following accommodations will be provided:
Hotel
Transportation 

Airport pick-up & drop-off

Daily trips to and from the masjid

Meals

There is a free hot breakfast available at the hotel every morning

lunch & dinner is catered everyday from local restaurants
The intensive will be held at the Islamic Association of Carrollton in Dallas, TX. The masjid is located at 1901 Kelly Blvd. Carrollton, TX 75006.
Refund Policy
We understand there are many circumstances under which you may need to withdraw from the program and request a refund, below is our refund policy for Seerah Intensive 2017. This policy is not applicable to other programs.
You are eligible for a full refund if you request it by November 1st.
Between November 1st-November 30 you are eligible for 50%.
After November 30th there is no refund available.
Frequently Asked Questions