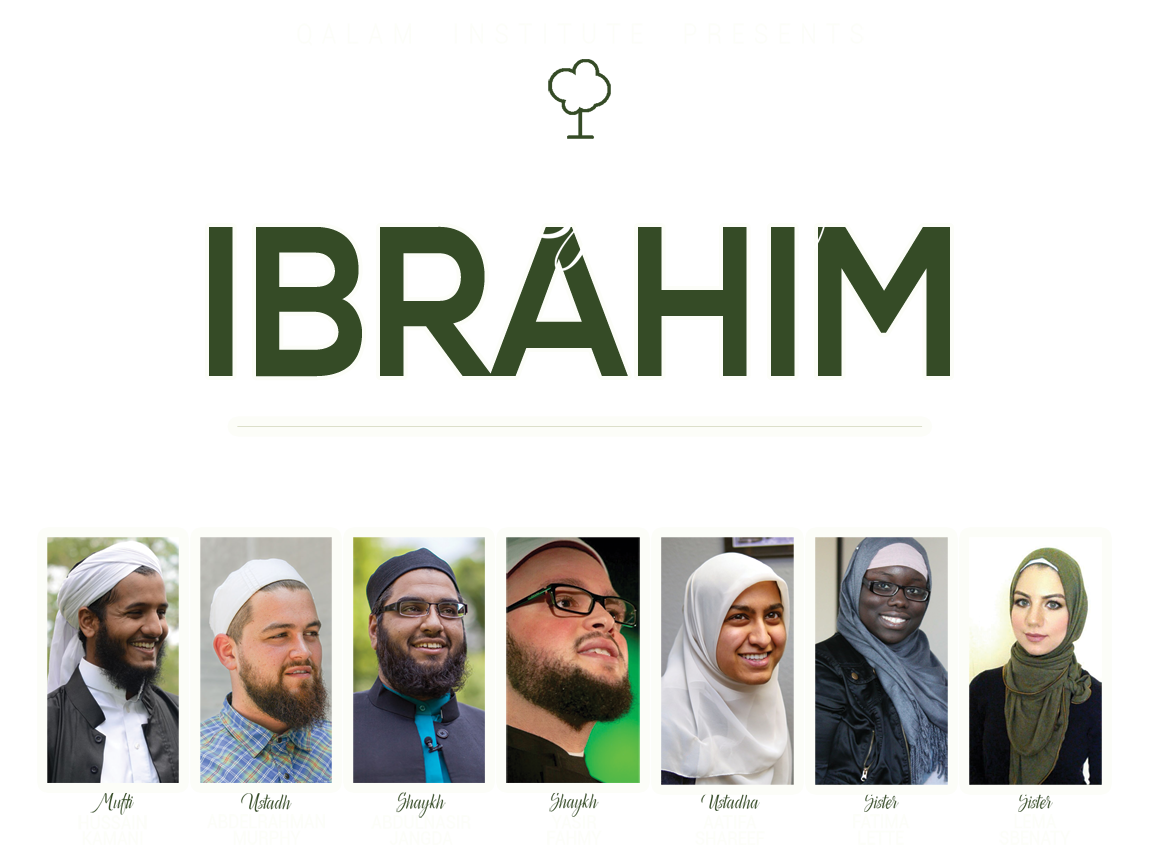 Through the Legacy of Ibrahim (a), personified as a flourishing tree (14: 24 – 25), we find that, to live a balanced life, one must have firm roots in faith, nurture familial values, and cultivate communal success. By Inculcating Abrahamic values: obedience to Allah (swt), love for family, and a dedication to people, we hope to improve both our lives in this world, as well as the hereafter.


100 Malcolm X Blvd, Roxbury, MA 
Proud Partners with Born and raised in Dallas Texas, Shaykh Abdul Nasir Jangda is the director and founder of Qalam Institute. At the age of 10, he began the road to knowledge by moving to Karachi, Pakistan, memorizing the entire Qur'an in less than one year. After graduating from High School, he continued his studies abroad at the renowned Jamia Binoria and graduated from its demanding seven year program in 2002 at the top of his class, with numerous licenses to teach in various Islamic Sciences.  Along with the Alim Course he concurrently completed a B.A. and M.A. in Arabic from Karachi University. He also obtained a Masters in Islamic Studies from the University of Sindh. He has served as an Imam, instructor, and curriculum advisor to various Islamic institutions and masajid, including Bayyinah Institute.
Mufti Hussain Kamani was born and raised in Elizabethtown, Kentucky. His journey to pursue sacred Islamic knowledge began at age six. By the age of 9, he was able to complete memorization of the Holy Quran. To further advance his study of Islamic Sciences, he later traveled to the United Kingdom and pursued formal Islamic authorizations (ijazahs). For 7 years, Mufti Kamani studied a rigorous curriculum covering the Arabic language and literature, Islamic jurisprudence, Tafseer of the Holy Qur'an, Hadith, Islamic Philosophy, and Aqeedah. Afterwards, he was selected for a post-graduate level course in Islamic Law and Legal Verdicts, which he completed within two years. He later earned his graduate degree in Business Management from the University of Coventry in the UK. Mufti Kamani currently resides in Chicago, IL with his family, where he has served as an Imam for 6 years. He also serves as an instructor for the Qalam Institute, where his class "Prophetic Code" has been studied by thousands. By the grace of Allah, he is the co-founder of KamaniOnline.com, a internationally recognized clothing brand for men's designer wear. During his pastime he also enjoys jujitsu.
Shaykh Yasir F. Fahmy was born and raised in Northern New Jersey. Throughout his high school years, Shaykh Yasir informally studied with various Muslim scholars in the United States. He began his formal training in the traditional Islamic sciences when he attended the Islamic University of Jordan at the age of seventeen. After completing a year of intensive study, he returned home to the United States where he completed a Bachelors of Science from Rutgers University and worked for three years in corporate America.
Shaykh Yasir then returned to the Middle East to attend the prestigious Al-Azhar University. During his seven years of studying in the Middle East, he completed a degree from Al-Azhar University, while simultaneously studying under and attending the classes of numerous scholars in and around Al-Azhar. Shaykh Yasir received numerous 'ijazaat (independent certifications) in the subjects of fiqh, hadith, aqeeda, usul al-fiqh, seerah, tazkiyyah, mantiq and in Arabic nahu (grammar), sarf (morphology) and balagha (rhetoric). In 2013, Shaykh Yasir Fahmy became the first American Azhari to teach in the renowned Al-Azhar Mosque.
Ustadh AbdelRahman Murphy is a graduate of the University of Illinois at Chicago, with a Bachelor's in Teaching of English and Religious Studies. He is currently pursuing his Master's in Mental Health Counseling. He has served as a youth director, Muslim chaplain, and assistant imam in a full-time capacity since 2009.
His Islamic studies background includes completing an Imam Certificate Program in Makkah, Saudi Arabia under the mentorship and training of Shaykh Khalid Hilwany. While growing up in the Chicagoland area, he spent two years studying at Riyadh As Saliheen Institute under Shaykhs Ehab Ash-Shaer and Abu Abdullah. While finishing his university studies, he benefitted directly from the training and teaching of Professor Omer Mozaffar in areas of Quran and texts of Imam Ghazali. After graduating with his BA, Ustadh AbdelRahman moved to Dallas, where he began reading classical texts with Shaykh AbdulNasir Jangda. In May of 2014, he formally graduated from the Qalam Seminary's one-year program.
Currently, he is continuing his study of the Quran and Imam Ghazali's text with Professor Omer Mozaffar, and is working to complete his coursework of the Dars-e-Nizami curriculum directly with Shaykh AbdulNasir Jangda.
Born and raised in Columbus, OH, Aatifa Shareef graduated with a degree in Psychology from Northwestern University. While in college, she served as Co-President of her MSA and a teacher at the various masajid in the Chicagoland area. She has attended numerous courses through Bayyinah, AlMaghrib, and Zaytuna Institutes as well as an intensive six-week long Islamic Studies course in Makkah with Shaykh Khalid Hilwany. Following her undergraduate studies, she attended the Bayyinah Dream program for Classical Arabic where she graduated as valedictorian and then went on to attend the first year of the Qalam Seminary with Shaykh AbdulNasir Jangda. Currently she works at the Qalam Institute as an instructor and project manager.
Lema Sbenaty graduated with Honors in Biochemistry from Middle Tennessee State University in 2013. While in college, she served as MSA president as well as a council member for MYNT (Muslim Youth Network of Tennessee) and MYM (Muslim Youth Murfreesboro). She has also worked to combat Islamophobia in Tennessee. Lema attended Qalam Institute, studying under Shaykh Abdul Nasir Jangda, and graduated in 2015. She is now a first year optometry student at the University of Alabama in Birmingham. She continues to be involved in Muslim youth programs and runs a popular Muslim advice blog.
Fatima Lette was born and raised in Atlanta, Georgia where she has served her community since the age of 16. She graduated from Atlanta Metropolitan State College with an Associate's Degree in Psychology & Comparative Religion. In 2010, she founded a program called Dawah for the Youth, which helped and continues to help various communities in the education & service of the people at large. Sr. Fatima completed less formal Islamic education under various Imams & Ustadhas in Atlanta. Her enthusiasm for Islamic Studies led her to Texas, where she completed both the Bayyinah Dream Program in 2014 and Qalam Seminary the following year. Currently she is pursuing her Bachelor's Degree in Psychology at Kennesaw State University and continuing her studies under Shaykh Abdul Nasir Jangda.
Friday, Oct 30
5:40 pm Maghrib
6 pm – 7 pm Registration
7 pm Isha
7:30 pm – 9:30 pm A Seed in the Desert: The Life and Legacy of Ibrahim (AS)
Ustadh Abdelrahman Murphy moderating a discussion with Shaykh Yasir Fahmy, Shaykh AbdulNasir Jangda, Mufti Hussain Kamani, & Ustadha Aatifa Shareef
Lauded as the "first Muslim," Ibrahim (AS) can be personified in one word: submission. Not only was his life a testament to the word, but his legacy was to pass that reality down to his children and the rest of humanity. By studying the man who defined the standard of what it means to truly worship Allah (SWT), we hope to inculcate that same sense of obedience and submission in our own lives.
Saturday, Oct 31
10:00 am – 11:00 am Those Who Rose Above: The Ultimate Role Models
Mufti Hussain Kamani & Dr. Altaf Husain
"Uswatun Hasanah" is the illustrious moniker specifically given to only two individuals in the Quran: our beloved, Prophet Muhammad (S) and our father, Prophet Ibrahim (AS). They both not only epitomize excellence, but they inspire others to be the same. As we explore how the Prophet Ibrahim (AS) was the ultimate role model for the Prophet Muhammad (S), we find in them two exemplars for ourselves.
11:15 am – 12:15 pm – Branching Out: Parallel Sessions
Weathering the Storm: Happy Muslim Marriages
Ustadh Abdelrahman Murphy
The context of our Islam is the result of one difficult decision Prophet Ibrahim (AS) made: move his wife and infant child to the middle of a desert. Through the example of Ibrahim (AS), we find that despite the most extreme struggles and hardships, couples with mutual understanding, patience, and dedication can nurture a fruitful and loving relationship.
Uneven Footing: Strengthening Our Roots of Faith
Shaykh AbdulNasir Jangda & Sr. Lema Sbenaty
Whether as a child, teenager, or an adult, we've all at some point tried to understand Allah in a more concrete way. We question the abstract and seek the tangible, doubting and affirming our faith along the way. By examining Prophet Ibrahim's (AS) life, here too we find a blueprint for approaching this internal struggle we inevitably face.
Weathering the Storm: Happy Muslim Families
Dr. Altaf Husain & Sr. Fatima Lette
Ibrahim (AS) was both a son and a father, and he encountered hurdles in both these relationships. On one side his father wanted to disown him for his beliefs, and on the other he was divinely inspired to sacrifice his son. In both, he teaches us the importance of doing our part in maintaining good relations particularly between our parents and children during times of difficulty and ease.
12:30 pm – 2:00 pm Dhuhr & Lunch
2:00 pm – 3:10 pm Nourishment from Above: A Dua Workshop
Shaykh AbdulNasir Jangda
Known as "Khaleelullah", Ibrahim (AS) was considered the friend of Allah (SWT). Rooted in  constant communication, this strong connection with Allah was built through dua, a gift we too can utilize. By granting us the ability to directly communicate with our Master, our religion empowers us in a way very little can. As we examine one of the greatest duas of Ibrahim (AS) preserved in the Qur'an, word-by-word, we fortify our own relationships with Allah.
3:15 pm Asr
4:00 pm – 5:30 pm Bearing Fruits: Happy Muslim Communities
Shaykh AbdulNasir Jangda, Mufti Hussain Kamani, and Br. Yusufi Vali
The most beloved and esteemed creation of Allah (SWT), the Prophet (S) was the answer to a single dua of Prophet Ibrahim (AS) with a powerful intent: to provide his progeny and community at large with a model to follow to lead them out of the darknesses of ignorance and imprudence. With sincere intentions, pragmatic approaches, and dedicated efforts we can hope to help our communities strengthen internally and extend benefit to those around us.
5:40 pm Maghrib
6:00 pm – 7:00 pm Out on a Limb: Open Q&A
Sr. Lema Sbenaty moderating a discussion with all the speakers
Ibrahim asked. He knew Allah, and he believed in Him, but he still asked. And Allah didn't turn him away. In this open Q&A session, feel free to ask! No question is too insignificant and we will do our best to shed light on whatever issue is brought to the table.
7:00 pm Isha
7:30 pm – 9:30 pm Remember your Roots: The Muslim American Identity
Shaykh AbdulNasir Jangda, Mufti Hussain Kamani, Ustadh Abdelrahman Murphy
We began this journey by exploring what the legacy of Ibrahim (AS) means to us and the different aspects of his life that we can learn from. But the biggest takeaway from his life is our Islam as a whole, our identity as Muslims. We close this conference by understanding what it means to be Muslim in light of the legacy he left behind.