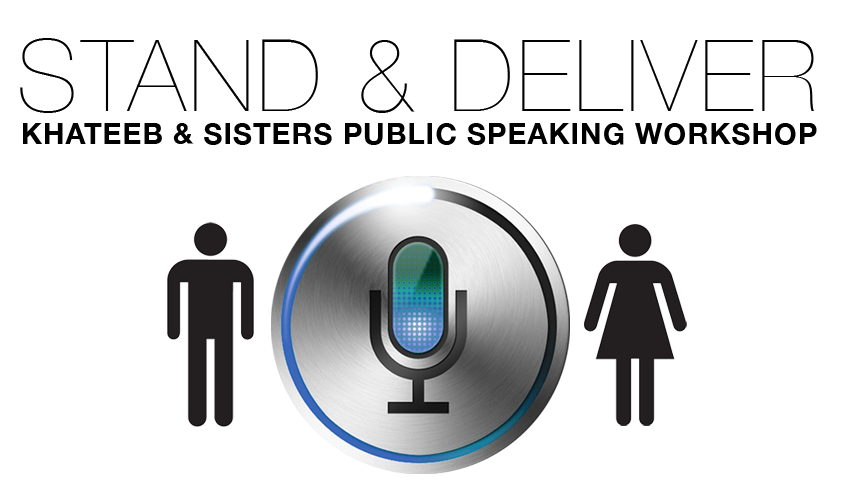 Brothers
For many people, Friday is the only religious experience they have all week. Are we upholding the responsibility of the minbar? Are we settling for khutbahs that are below average, and don't help us become better Muslims? Less than inspiring? Boring? Not applicable to our lives? The problem we face is two fold. Firstly, we lack qualified khateebs in general. People are often thrust into the position against their will, and sometimes have been giving khutbah for 5-10 years without ever receiving formal training. The second problem is that even the experienced khateeb sometimes is not able to connect properly with the audience. This workshop is Qalam Institute's small effort at helping to fix that. We trained 100 khateebs last year, and we hope to do so again this year. It is our earnest hope that we begin to properly value and utilize one of the greatest tools we have at our disposal when it comes to improving our communities – the minbar. Whether you are simply interested in giving khutbah, or a well-seasoned veteran, we hope that you will try and attend.
Sisters
Maryam, Hajar, Khadijah, Ayesha, these are a few names of some of the greatest motivators, educators, and role models in Islam. The Sisters Public Speaking Workshop is our effort to equip women with the tools, confidence, and resources required to speak about Islam and its teachings. Last year we successfully conducted the Sisters Public Speaking Workshop simultaneously alongside our Khateeb Workshop so that sisters could take advantage of the beneficial components of the workshop that are applicable to anyone speaking publicly about Islam regardless of gender. Along with exclusive sessions conducted by sisters for sisters so that attendee\\\'s could learn from the experience and education of female leaders in our community.
Curriculum
Fiqh – Timing of prayer, requirements of khutbah, minimum number of people required, fiqh issues for leading salah, adhan during juma, women leading juma, giving multiple khutbahs on the same day, traveling, reading from electronic devices, fiqh of Eid, fiqh of janaza, and other topics.
Logistics – Khutbah walk through, dealing with announcement and dua requests, how to dress, dealing with different set podium set ups, recording your khutbah, dealing with medical emergencies, and other miscellaneous issues that arise.
Communication – public speaking, rhetoric, communication, speech construction, communicating to diverse audiences, dealing with media, interfaith groups, and MSA's.
Topic Selection – how to select a khutbah topic, how to utilize Qurah, Hadith, and Seerah in  your khutbahs, purpose of the khutbah, and how to research a khutbah in English.
Tarbiyyah – Tarbiyyah sessions, spirituality for the khateeb, understanding your role in the community, dealing with public scrutiny, dealing with praise and criticism, and other topics.
Practice – Delivering a practice khutbah, and a special exercise Monday evening to hone a speaker's analytical and public speaking skills.
No one can ever underestimate the power of Jumua specifically the Jumua Khutbah. Muslims that are never exposed to anything remotely Islamic will come to Jumua without ever being invited or asked to come. Hence the jumua khutbah needs to be top-notch and the person delivering the Khutbah better be prepared and ready to inspire people and be a tool for bringing the audience closer to Allah. This workshop is one of the first of its kind from what I know. When you think about the importance of the Jumua Khutbah and the immense responsibility of the Khateeb, how is it possible that we dont have more preparatory programs like this one so we can have the highest quality khutbahs being delivered all across the nation? The Khateeb workshop gave me really practical tips on how to improve my khutbahs from every angle. We need to support such programs and encourage all current and potential khateebs to take it.
The wisdom shared by the shuyookh at the workshop was absolutely priceless. Myself and friends take lots of seminar, but this workshop gave us a framework of wisdom to work within such that we can benefit people with our knowledge and not harm them. The workshop was also very practical and in writing and presenting khutbah's to the shuyookh we helped to isolate problems in our delivery or style. I would say this course is mandatory upon every student of knowledge because it gives them the tools they need to put their knowledge to its proper use, which is standing and delivering!
What an amazing workshop! The knowledge was very helpful and the practice sessions really helped me improve my ability to give khutub and khatiras. Even more amazing was the company – I got a chance to meet other active khateebs and community leaders from communities all across North America.      
I loved the way the instructors focused on the theoretical aspects of the basic importance and etiquettes of the Jumu'uah khutba as well as giving some of the most practical advice you may ever find. That balance flowed throughout the whole course and really made it that much more of an enriching learning experience.      
One of the most practical and beneficial workshops/classes I've ever taken. It cleared a lot of questions/uncertainties that I use to have, what to do in certain situations, what to say and what not to say, how to prepare properly, how to grab people's attention, how to make the khutbah cohesive, and a lot more. It's definitely worth the time, money and effort you put in. And the company is amazing from the teachers to the students to the community members you might meet.      
JAK for preparing such an enlightening and educational workshop. It is hard to express the depth of hope I now have for the future of our Ummah after meeting and hearing the knowledge and "spin", I guess, that is being put on that knowledge… I'm having a hard time being concise… but I guess for so long we have been subjected to the "cultural Islam" that many of us converts wondered if the "real Islam" that we studied even existed. The fact that the real Islam is being propagated to the future khateebs and community leaders is almost more than my small brain can accept, lol.
I hope you will pass on my appreciation to everyone involved that made the effort to come and teach us. Insha'Allah, I am making dua' that Allah swt continue to bless all of you and clear the obstacles from your paths in doing this work. Ameen – Carole
Frequently Asked Questions
This program will be held in Dallas, TX at the
Islamic Association of Carrollton
1901 Kelly Blvd
Carrollton, TX 75006
Full Package – $499
This includes:
Airport Pickup and Drop-off
4 nights of accommodations at the Marriott SpringHill Suites
Transport to and from the Islamic Association of Carrollton for class
Breakfast, lunch & dinner for your entire stay.
Local – $249
Our local tuition does not include any accommodations, meals or transport.
Please note the following:
Students registering for Full Package – Single will be assigned a roommate, making it two students per room. Single occupancy is available at an additional cost upon registration.
The workshop will be from January 15-18, 2016. Class will begin first thing Friday morning on January 15. Final sessions will be on Monday January 18.
Daily Schedule:
Friday – Sunday from 8:30am to 6:30pm
Monday from 8:30am to 12pm
Note:
Hotel checkin for Full Package registrants will be on Thursday January 14.
Hotel checkout will be on January 18 at noon.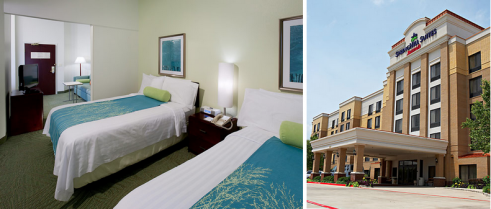 Full package students will be staying at the SpringHill Suites in Addison for the duration of the intensive. Below are photos  of the rooms and common areas along with a list of amenities that the hotel offers.
Amenities: Complimentary WiFi | Onsite Parking| Hot Buffet Breakfast | All Guest Rooms Have Refrigerators & Microwaves | This Hotel is also Smoke Free
15255 Quorum Dr, Addison, TX 75001
Breakfast will be available to full package students at the hotel. Lunch and dinner will be catered for full package students and provided at the class location inshaAllah.
For more information please contact us at:
khateebworkshop@qalaminstitute.org