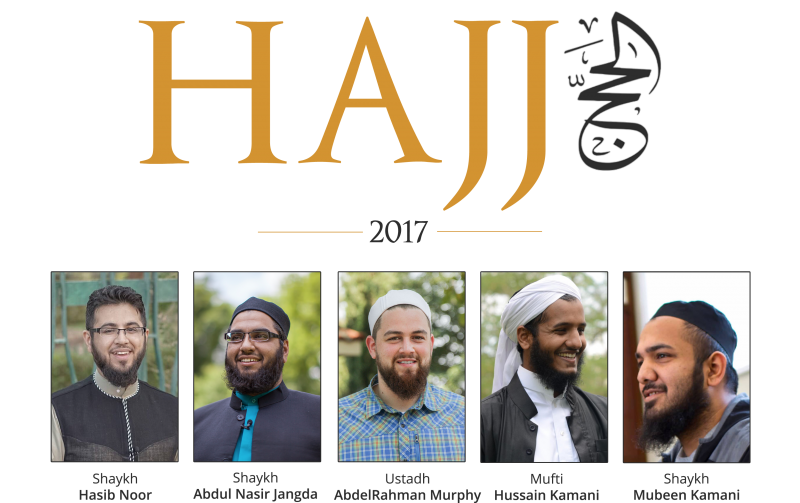 "Here we come Allah, Here we come to Serve you. Here we come, no partner do You have. All praise to You. The universe is yours. Here we come Allah, Here we come!"
The story of Hajj, the pilgrimage to Makkah, begins over 4000 years ago. Following the Divine command, the Prophet Ibrahim traveled until he reached the hot, barren lands of Arabia. There he left his wife, Hagar, and his little baby, Ismail. Hagar struggled to find water for her baby. She ran back and forth between the mountains of Safa and Marwa seven times until at last the miraculous Zam Zam spring came gushing out and saved their lives. Allah accepted their struggle, and rewarded them with nourishment for the rest of their lives. Years later, Ibrahim (AS) was again asked to make a great sacrifice: give his beloved son for the sake of Allah. Allah again accepted his obedience, rewarding him by replacing his son with an animal. Finally, when it came time to build a House dedicated for the worship of Allah alone, Ibrahim (AS) and his son Ismail (AS) built it with their own hands, and finished it off by asking for acceptance.
"O Lord, accept this from us. Indeed You are the All-Hearing, the All-Knowing."
Allah answered his prayer. We have the Ka'abah that we bow towards five times a day. We have the Zam Zam water used to quench our thirst. We have the mountains we rush back and forth from. And we have the animals we sacrifice as our plea to Allah to accept our Hajj, the pilgrimage required by all Muslims commemorating the obedience Ibrahim (AS) and his family displayed..
Qalam Institute is able to say "Here we come!" as well, as we offer an opportunity to participate in this great pillar of Islam. Join us as we go for Qalam Hajj.
Hajj Education & Seminars

Dedicated Assigned Agent

Air Conditioned Buses

Religious Advisors Fluent in English, Urdu & Arabic

Barbers at Mena Camp (nominal fee)
Dedicated Group Leaders

Medical Assistance on hand

A team of Dar El Salam Staff

Luggage Management & Transpor

t
Hajj Prep material prior to trip

Ihram for male pilgrims

Prayer rug for female pilgrims

ZamZam water to bring home

Local Saudi Sim Cards (based on availability)

Drawstring shoebag
PLEASE NOTE – The following is not inlcuded: Hajj draft fee, sacrifice, domestic flight to international departure port, excess baggage fees, personal expenses, meals not mentioned in the itinerary.
Interested in Qalam Hajj 2017?
Hajj this year was an unbelievable experience, the instructors and attendees all felt the life changing impact of this journey. Alhamdulilah, the entire Qalam Hajj group was able to perform their hajj, visit the city of the Madinah and return back home safe and sound. All the Qalam Hajj group members have continued to remain in contact with one another and the relationships and bonds that have been formed through this amazing experience will last a lifetime inshAllah. At Qalam & Dar El Salam, we are already gearing up for next years hajj inshAllah. So if you're interested in fulfilling this pillar of our religion with Qalam, please fill out the form below. We will be sharing information about next years group as well as some insights and lessons from hajj.
3 Nights in Madinah – Hilton Madinah Hotel

3 Nights in Makkah – Fairmont Royal Clock Tower
5 Manasik of Hajj – Super Deluxe Mena Camp (in front of Jamarat)

Super Deluxe Dar El Salam Arafat Camp
Private Dar El Salam Space in Muzdalifa
1 Night in Jeddah – Jeddah Hotel (subject to departure time)
August 22 – September 5, 2017
15 Days
Departure: JFK to MED
Return: JED to JFK
PLEASE NOTE: Airline choices and other departure cities are available upon request, prices may vary.
Quad Room
$12,300
Triple Room
$12,600
Double Room
$13,500
Breakfast & Dinner buffets will be provided in the hotels you will be staying in and as specified in the itinerary.