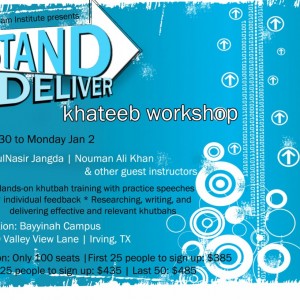 Stand & Deliver: Khateeb Workshop Dec 30, 2011 – Jan 2, 2012
Qalam Institute is pleased to announce our second edition of: Stand & Deliver Khateeb Workshop. 
Last summer 100 students from all across North America came to this groundbreaking seminar to learn the ins and outs of delivering a khutbah. We had people who had never given a khutbah before to two full time imams in attendance (as students!). 
[box]Date: Dec 30 to Jan 2nd, 2012 [New Year's weekend]
Location: Bayyinah Campus, 2300 Valley View Lane, Irving, TX
Instructors: AbdulNasir Jangda, Nouman Ali Khan, and other guest instructors
Tuition: $385 for the first 25 people to sign up, $435 for the next 25 and $485 for the last 50.
Registration is capped at 100 seats. [/box]
Qalam Institute's vision is to provide Islamically based direction to provide relevant and successful solutions to issues facing individuals, families, and communities.
A big component of this is making sure that a relevant, inspiring, and positive message is given out from the pulpit every Friday. Juma is perhaps the most important event that takes place in most communities across the country. For many, it's the only time they attend the masjid or hear any type of a religious talk. 
Why then, do we settle for khutbahs that are below average? Less than inspiring? Boring? Not applicable to our lives? 
The problem we face is two fold. Firstly, we lack qualified khateebs in general. People are often thrust into the position against their will, and sometimes have been giving khutbah for 5-10 years without ever receiving formal training. The second problem is that even the experienced khateeb sometimes is not able to connect properly with the audience. 
This workshop is Qalam Institute's small effort at helping to fix that. We trained 100 khateebs last year, and we hope to do so again this year. Here's a few things you can expect at this years workshop:
2 practice khutbahs (one at the beginning, and one at the end) that are individually critiqued. 

The Fiqh of Juma – and by Fiqh we mean learning the rules that actually apply to you as a khateeb, and dealing with modern situations. 

Leading 2 jumas? How many people do you need? Where can it be held? Can you use your iPad for khutbah notes? We'll cover that and a lot more

Dress code

How to research a khutbah using English resources

How to pick a topic, and make it applicable to the audience

Dealing with criticism

Handling post-salah requests like giving shahadah, conducting a nikkah, or performing the funeral prayer. 

Eid Khutbah

Logistical issues – announcements, dua requests, mic going out, unruly audience members, medical emergencies, and more
It is our earnest hope that we begin to properly value and utilize one of the greatest tools we have at our disposal when it comes to improving our communities – the minbar. Whether you are simply interested in giving khutbah, or a well-seasoned veteran, we hope that you will try and attend. 
We'd also like to make a special appeal to those masjids who lack a full-time Imam to identify the up and coming khateebs in their communities and send them to the workshop insha'Allah.