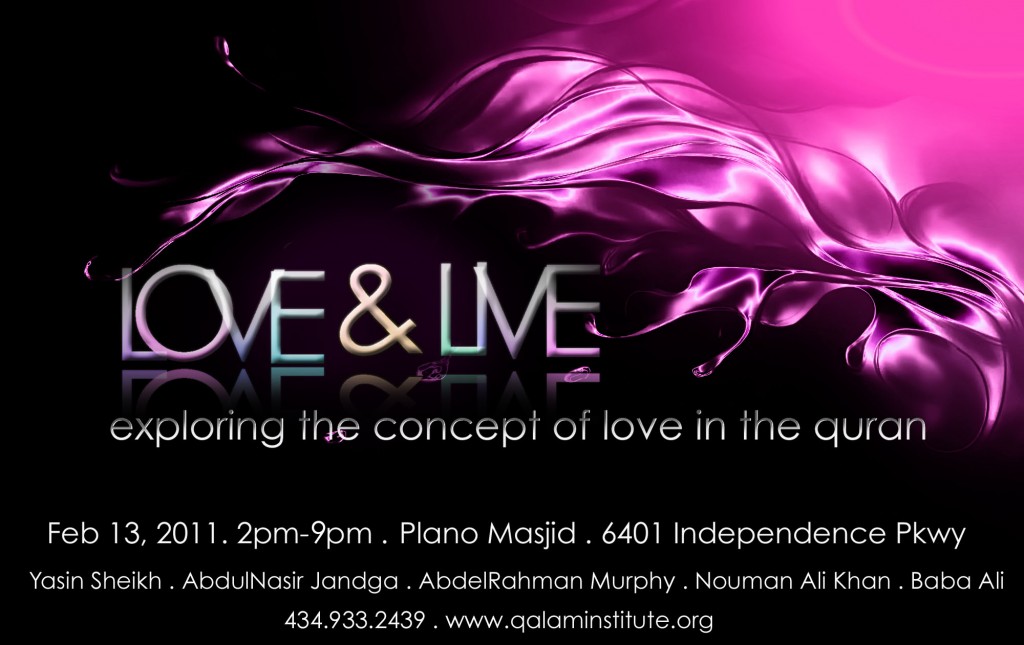 Qalam Instiute's conference titled "Love & Live" on the subject of exploring love in the Quran.
[youtube]http://www.youtube.com/watch?v=AEM5ZByhYNM[/youtube]
The true experience of life is by experiencing love. Though this might be considered a very new or progressive idea, this principle has been identified in our tradition and scripture, especially in the Qur'an.
In the Qur'an, Allah talks about the concept of love – for one's self, one's spouse and family, community, humanity, all types of love. The beloved Prophet Muhammad (peace be upon him) taught us that love is of the essence of faith when he said that "none of you will truly believe until you love for another what you love for yourself."
How does this relate to us? How do we live our lives everyday, implementing this culture of love and faith, bringing ourselves closer to Allah and closer together? Qalam Institute and IANT Youth present a groundbreaking, dynamic forum on the concept of a life of love, a Sunday event which guarantees an improvement to the quality of life of all those in attendance.
Speakers:
Shaykh Abdul Nasir Jangda
Br Nouman Ali Khan
AbdelRahman Murphy
Imam Yaseen Sheikh
Special Guest Baba Ali!
Date & Time:
Sunday February 13th, 2011
2pm-9pm
Location:
Plano Masjid – IACC(Islamic Association of Collin County)
6401 Independence Pkwy, Plano, Texas 75023         Click Here for Directions
972-491-5800
Facebook Event!
This event will be broadcasted LIVE online! Click Here to Signup!