Khateeb Workshop June 3-7, 2010 – Nouman Ali Khan, AbdulNasir Jangda, and Yaser Birjas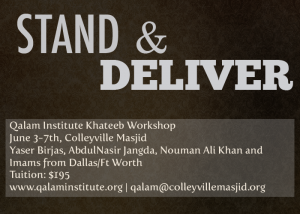 Registration NOW OPEN – at the bottom of this page!
Watch the videos at the bottom!

What: Khateeb Workshop
When: June 3-7, 2010 (First Session is Thursday the 3rd at 830pm and the final session ends on Monday the 7th at 430pm).
Download the Schedule of Events
Where: Colleyville Masjid (in Dallas/Fort Worth, TX)
Who: Imam AbdulNasir Jangda, Nouman Ali Khan, Shaykh Yaser Birjas, plus local Imams from DFW metroplex.
Co-sponsored by MSA National!
Are you an experienced khateeb that never received any formal training for the khutbah?Is your MSA always struggling to find a good khateeb?
Are you a beginner khateeb or even an aspiring khateeb?Ever been a khateeb when someone handed you a 'fishy' announcement to make after prayer?
Ever been asked to fundraise on the spot since you're giving khutbah?
What do you do if the mic goes out while you're talking?

Do you struggle with preparing khutbahs, and researching them?

This program is designed to give attendees a full breakdown of everything needed to deliver a powerful, motivating, and effective khutbah. Plus, you'll also learn tips and tricks as well as get advice for handling all kinds of different scenarios that pop up during the khutbah.
Jabir informs:
"When the Prophet delivered the khutbah, his eyes became red, his voice rose, and his anger increased as if giving a warning to the enemy." This is related by Muslim and Ibn Majah. An-Nawawi says: "It is preferred for the khutbah to be in an eloquent and proper Arabic, and it should be an organized speech that the people can understand. It should not be a speech, which is over the heads of the people, nor should it be shallow or contain foul language as that would defeat its purpose. Its words should be chosen carefully to make them attractive and meaningful."
Giving his views on the subject, Ibn al-Qayyim says:
"The khutbah of the Prophet reinforced the fundamental articles of faith, like belief in Allah, the Exalted, His angels, His books, His messengers, and the meeting with Him. He would mention the paradise and the hellfire and what Allah, the Exalted, has promised to His devoted servants and the people who obey Him and what Allah has promised to His enemies and the miscreant. While listening to his khutbah, the hearts would be filled with belief in Allah, His oneness, and His majesty. His khutbahs were not like speeches of those who speak only of matters of concern of common folk, lamenting earthly life and frightening people of the approaching death. Such speeches cannot inspire faith in Allah or strengthen belief in His oneness or move people by allusion to His mighty works in history, nor can they kindle in hearts intense love for Allah, making the listeners look forward eagerly to the time they will meet Him! The people who hear such speeches gain no benefit at all, except that they will die and that their wealth will be distributed and their bodies will be turned to dust. Woe to such poets, what sort of faith is fostered by such sermons, and what sort of tawhid do they teach or knowledge disseminate? If we study the khutbahs of the Prophet sallallahu alehi wasallam and his companions, we find them embued with perspicuous guidance, tawhid, attributes of Allah, explaining the basic articles of the faith, inviting people to Allah, and drawing their attention to His providential care that makes Him so beloved to His slaves. His khutbahs referred to Allah's dealings with others in the past so as to wam his listeners against His wrath and exhort them to remember Him, thank Him and win His pleasure and love. Those who heard these khutbahs were inspired with the love of Allah and they looked forward eagerly to meeting their Lord. As time went by, the example of the Prophet was forgotten and other things prevailed. The main purpose of the khutbah was forgotten. The eloquent and nice words that moved the hearts became rare in speeches. The main thrust of the khutbah was neglected. The hearts were no longer touched and the basic purpose of the khutbah was lost."
This intensive will cover
Fiqh of Jumu'ah
Fiqh of leading Salah
Purpose of the Khutbah
How to research a khutbah
Dealing with different scenarios that may happen to you
Learn effective communication and public speaking techniques
The program is designed so students from out of town can attend without having to take too much time off work or school. Classes will begin on Friday morning (students need to arrive on Thursday night) and will conclude on Monday evening (students will be able to fly out late Monday night).
Tuition: $195 [$150 for MSA students] – Preferred method of payment is by check on SITE. Online option via paypal is available after hitting the Submit button when you register below.
Please contact qalam //at// colleyvillemasjid.org for more information.